Dominica Leopard Jumpsuit
$18.00
Your baby girl will surely look amazing with our Leopard Sleeveless Jumpsuit.
Definitely, an eye-catching design that is perfect for casual wear, themed parties, and even for photo shoots!
Style:
Sleeveless jumpsuit
Allover Leopard print
Banded cuffs for comfort
With bottom snaps for easy diaper change
Fabric: 
Size Chart:
| | | |
| --- | --- | --- |
| Size | Length (cm) | Bust*2 (cm) |
| 0-6M | 50 | 24 |
| 6-12M | 54 | 25 |
| 12-18M | 58 | 26 |
| 18-24M | 62 | 27 |
Note: Please allow 4-6 weeks for delivery
---
Related Items
Ketki Ruffle Romper
$18.00
---
Our darling Ketki Ruffle Romper is EVERYTHING! Ruffle sleeves and various colors to choose from! This can be one of her all time favorite outfit!  Style:  Ruffle sleeves Lace design at the chest Scoop back with 1 button Garterized legholes With...
Belinda Tutu Romper Set
$9.99 $20.00
---
Style her with our lovely Belinda Tutu Romper with Headband. Made from cotton for a comfortable fit perfect to wear on casual days, parties, and special gatherings!  Style:  Sleeveless Elongated strap at the back Ruffles at waistline  Garterized legholes With snaps...
Red Plaid Romper
$19.00
---
It's a beautiful day! Your little girl will surely love our Red Plaid Set to add a bright and fun vibe to everyone's day! A unique and comfortable clothing set perfect to wear during the summer season.  Style: Plaid romper Square...
Watermelon Romper Set
$9.99 $20.00
---
Set the mood and summer vibes with our adorable Watermelon Romper Set.  Your little ones will surely quench your cravings for cuteness with this outfit! Definitely comfy and perfect to wear on casual days, themed parties, gatherings, and even during photo...
Customer Reviews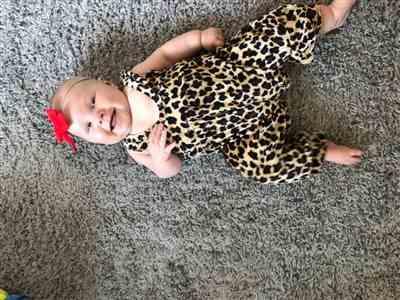 07/27/2019
Love this outfit
What a cute outfit! Fits great, looks cute. Everyone I know wants one in an adult size.
KH
Kolleen H.
United States
10/23/2019
LEOPARD EVERYTHING
I absolutely love this romper. I can't wait to see my little girl in it. It's made with great quality fabric and is super soft!
Charley M.
United States
07/09/2019
I love it so much. Just the best piece for the summer. Lightweight breathing material. Stretchy enough and so soft. Love it!
07/02/2019
This outfit is super cute and soft! The design is really beautiful. My daughter looked even more beautiful in it.
06/24/2019
she is on the smaller side as she is in the 2% in weight so it was still a little big on her around the neck area. I love this and will be ordering more
06/18/2019
OBSESSED. My 18 month old daughter wore this on vacation and she got so many compliments. It did fit her perfectly.
Whitley S.
United States
06/14/2019
I love the soft fabric! Perfect for summer and winter. Happy with my order.
06/11/2019
I am so pleasantly surprised with this outfit! The material is really nice and soft and stretchy. I expected them to be not that amazing for the price but you would never guess how much they are. They look like they came from a children's boutique or something.
Everly N.
United States
06/05/2019
I love that the shipping didn't take forever. And the quality did not disappoint. I love how it was packed and that it didn't have weird factory smell.
05/29/2019
Oh my goodness! This jumpsuit is the most adorable outfit ever!! She looked so adorable in it.
Cora M.
United States
05/25/2019
I loved this product it was a birthday gift but everything looks great on it. The shipping took more than 2 weeks but it's still a great experience.
05/22/2019
Absolutely adorable!! The material is so soft and good quality!
Laurenia K.
United States