Finneas Rubber Aqua Bath Toy
$16.00
Make bath time for your little ones a relaxed and endless fun! This helps boost their imagination and creativity. With assorted cute squirting animals made of kid-friendly high-quality material that can withstand little teeth chew. It includes a fishing net to amuse your little ones and help catch those adorable sea creatures. Make bath time easier for you and your little ones. Guaranteed these will keep them busy and entertained!
Style and Features:
Squeeze and squirt streams of water
Five adorable sea creatures and a fishing net
BPA-free premium and Passed 3C Certificate
Interactive bath buddies
Durable: made of kid-friendly material
Perfect for 2 years old up
Material:
Package includes: Fishing net + four assorted animals
Note: Please allow 4-6 weeks for delivery
---
Related Items
White Floral Bodysuit
$9.99 $16.00
---
White is always IN! Our all-time best selling white floral laced bodysuit is a wardrobe staple for your baby girl. Perfect outfit for baptism, birthday or any special gatherings. Style: Romper Allover lace design Flared lace long sleeves With snaps...
Vantrice Ruffled Romper
$9.99 $20.00
---
Standout from the crowd with our super fancy and adorable Vantrice Ruffled Romper. Its fabulous ruffle details makes it look more flawless and refined. This darling is made from a really soft premium quality fabric and comes in six glamorous colors. Style:...
Sleeveless Floral Jumpsuit
$9.99 $15.00
---
Our Sleeveless Floral Jumpsuit features a combination of yellow and neutral floral prints which will make your baby girl look stunning.  Style: Sleeveless Jumpsuit Allover floral design Banded hem ! - Without Diaper Snaps Fabric: Cotton Blend   Size  Chart:
Watermelon Romper Set
$9.99 $20.00
---
Set the mood and summer vibes with our adorable Watermelon Romper Set.  Your little ones will surely quench your cravings for cuteness with this outfit! Definitely comfy and perfect to wear on casual days, themed parties, gatherings, and even during photo...
Customer Reviews
02/06/2019
These bath toys are adorable and my 12 month old LOVES to play with them when taking a bath.
Taniesha L.
United States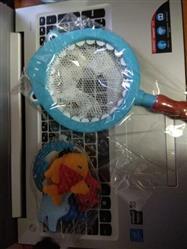 01/21/2019
I have been using these toys every single night with my son in the bath for almost 6 months now. I just made sure that I clean them after every use. I will buy more different ones
12/28/2018
I purchased these for my first son and he loves them. He's 9 months old and loves his bath time and now even more. They are very well made and durable. No issues with keeping them clean, just hand wash and air dry.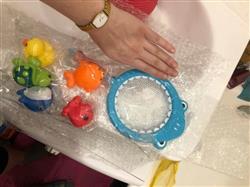 12/01/2018
I bought these for my nine-month-old grandson who loves his baths and likes to sit and play in the water. They're a little bit smaller that I anticipated, which is why I gave them four stars, but the quality is very good. They're cute and above all, my grandson loves them.
02/03/2019
This particular set of squirt toys is adorable. The colors are bright, friendly looking, and large in size. I would buy them again.
01/28/2019
Great for the price. My child loves naming the animals and playing in the bath. So worth such little money.
01/15/2019
I bought these for my 8 month old grandson and he loved them right away. They are the right size for him to hold and the bright colors are attractive. Since they are intended to be bath squirt toys they do have a hole for the water to squirt out, we plan to glue up the hole and just let him use these as chew toys. These exceeded my expectation and I would recommend them.
Victoria L.
United States
01/06/2019
My son loves his squirt toys. I bought his first two at Wal-Mart and ended up paying more for them then I did for the three of these. They are easy to clean just soak in bleach water and use an old toothbrush to clean the crevices.
12/20/2018
These are so cute! I ordered these for my 1 year old nephew for Christmas. Even during the busy Christmas season they ended up arriving at my house 2 days before the scheduled time. They are the perfect size for his little hands to grab but not two small that you really have to worry about him chocking on them.
12/16/2018
Great item. My kid loves these bath toys. I actually included some of these in gift bags for some of the babies at my daughter's birthday party and they were perfect.
12/09/2018
My two year old is obsessed with anything aquatic. So these were great. He uses them in the bath but prefers to just walk around the house with them or have them in the car. And they don't hold water like a lot of other bath toys, which is great.
11/29/2018
Cute and colorful, the kids love them. They're perfect for a baby. These are great for traveling and tiny hands love holding them.
11/24/2018
Our little one plays with these little animals in the water, out of the water, everywhere! Cute designs and colors. Really nice for kids.
11/19/2018
it's such a great purchase! I love the fact that these are all animals actually living in the water so they won't mess with kiddo's common sense. they are of good size and colors are great too!