Isabella Cotton Turban
$6.00
Something missing? Complete her outfit with a classy looking turban. 
Try our Isabella Cotton Turban and complete that look. Match it with her favorite outfits and let the world be her run way. Perfect for photo shoots and other occasions.
Style:
Stretchable
Soft and lightweight
Bohemian knot design
Material:
Size:
Head circumference: 38 x 15 cm
Note: Please allow 4-6 weeks for delivery
---
Related Items
Bow Tie Moccasin
$13.00
---
Your little girl will surely look amazingly sweet with our Bow Tie Moccasin slip-on. Complete with its soft,comfy soles and side fringe. Style: Soft soles Slip-on design Front bow and side fringe Material: Outsole Material: EVA Upper Material: PU   Size...
Beverly Knitted Knee Socks
$7.00
---
Can't find the right socks to pair her outfit with? Well, you came in the right place. Our lovely Beverly Knitted Socks is a knitted type sock with cute detailing that will keep your little one warm the whole day....
Octavia Romper
$9.99 $17.00
---
Make fall experience an unforgettable one wearing one of our glamorous styles. Our Octavia Romper is designed with peplum sleeves and ginormous bowknot on the back. It comes in three beautiful colors so you can match it up with your girl's...
Atarah Flower Romper
$9.99 $18.00
---
Get this perfect fall romper with gorgeous floral prints with added ruffles on the ends for a prettier and fashionable look even during the freezing season. She'll surely make everyone fall in LOVE. Style: Garterized cuffs and waist for adjustment...
Customer Reviews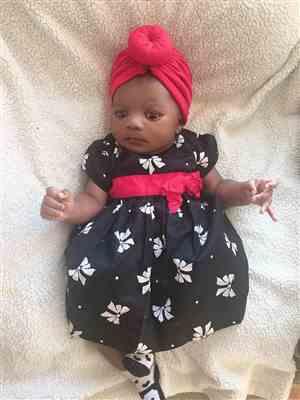 10/03/2019
I loveee!!!
Very comfy, love the way it fits perfectly and securely. I'm definitely going to order more.
Uyinmwen I.
Canada
11/13/2019
Loveeeee It
That's my second one and just as the first one, it looks great and fits perfectly. I will definitely order more.
Darken B.
United States
02/09/2019
Cute!
This turban was super cute and the fit was perfect. Would definitely purchase more in other colors.
12/19/2018
Loved this turban
Fit her perfectly! I was really nervous because she's only two months but it fits just perfect! I wasn't able to find a turban online that fit
Thank you!! We're glad you love it!