Macy Romper
$9.99 $18.00
A cute and adorable romper that is perfect for the upcoming cooler days!

Style:
Long Sleeved Floral Romper
Ruffled shoulder pads
3 buttons at the back
With 2 buttons for easy diaper change
Garterized cuffs and ends
Fabric:

Size Chart:
| | | | |
| --- | --- | --- | --- |
| Size | Clothes Length (cm)  | Bust*2 (cm) | Sleeve Length (cm) |
| 0-6M | 42.5 | 26 | 27 |
| 6-12M | 44.5 | 27.5 | 29 |
| 12-18M | 46.5 | 29.5 | 31 |
| 18-24M | 48.5 | 31 | 32.5 |
Note: Please allow 2-4 weeks for delivery
---
Related Items
Vantrice Ruffled Romper
$9.99 $20.00
---
Standout from the crowd with our super fancy and adorable Vantrice Ruffled Romper. Its fabulous ruffle details makes it look more flawless and refined. This darling is made from a really soft premium quality fabric and comes in six glamorous colors. Style:...
Gwen Sleeveless Ruffled Romper
$9.00 $18.99
---
Perfect for spring and sunny days! Our Gwen Sleeveless Romper looks elegant and stylish. Simply pair it with sandals and your baby girl is summer ready in no time!  Style: Sleeveless Semi turtle neck Flutter sleeves, neck and waist Button-down...
Watermelon Romper Set
$9.99 $20.00
---
Set the mood and summer vibes with our adorable Watermelon Romper Set.  Your little ones will surely quench your cravings for cuteness with this outfit! Definitely comfy and perfect to wear on casual days, themed parties, gatherings, and even during photo...
Trixie Floral Romper Set
$9.99 $19.00
---
We love everything about our Trixie Floral Romper! The pink floral prints on the white cotton, floral lace and pom pom details look so lovely. It features a cross back design which makes it a perfect outfit for spring and...
Customer Reviews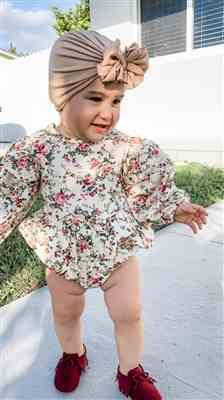 11/19/2019
Very satisfied with my purchase.
Excellent quality and beautiful romper. My baby has so many compliments!
Yuneidy M.
United States
11/13/2019
Rompers
They arrived in an expected time frame. They are actually Christmas gifts so I can't send pictures at this time.
Lyn J.
United States
11/06/2019
It's Finally Fall Romper
Love this romper!! So different from what you see all the time. We will shop this company again!
Jenna
United States
09/29/2019
Good product
I was very pleased with my purchase. It makes my daughter look like a little doll. She has gotten lots of compliments.
Jessica R.
United States
09/24/2019
Macy Romper
It's super cute and fit pretty true to size. Made well. Will be ordering again.
Desiree S.
United States
03/30/2019
this romper is super adorable and I am loving the look of it on my daughter...
03/16/2019
Beautiful clothing! Much much more beautiful than the picture. I highly recommend this perfect for spring and fall.
03/05/2019
THE PATTERN OF MATERIAL REMINDS ME OF THE DAYS PEOPLE DRESSED LITTLE GIRLS TO LOOK LIKE LITTLE GIRLS AND NOT LITTLE WOMEN
02/25/2019
Great outfit for little girls. The fabric is super soft and it is super stylish too.
02/15/2019
Super cute and good quality. The sizing is perfect too.
02/10/2019
Got it after a month I thought it will never come but it did. The quality is amazing on this one. I recommend this to all moms who has adorable little girls.
01/29/2019
Such a gorgeous outfit. Received so many compliments, paired it with the heart sunglasses and she definitely slayed the look.
01/21/2019
It fit my baby perfectly. Colors are beautiful. She looks adorable in them.
10/01/2018
True service level!
My experience could not have been better. Personalized service in an online channel is rare. This Company exceeded my expectations.
04/18/2018
Excellent!
Excellent, attentive and reliable service.